back
De Nieuwe Muze / Amsterdam, Netherlands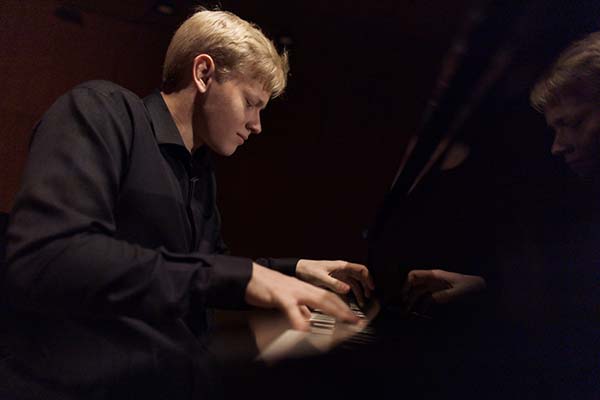 Reviews of the recital in Concertgebouw
De Nieuwe Muze / Alexander Malofeev: energetic gifted pianist
Twenty-year-old Russian pianist Alexander Malofeev is as early as a quite experienced musician. Yesterday, he made debut with a solo concert in the Concert Hall "The Concertgebouw". He was granted with his first award at the age of 13, at the Tchaikovsky Competition for Young Musicians, and since then, his career has been developing rapidly. Once he appeared previously in the Main Hall at the jubilee concert on the occasion of 30th anniversary of the series "Piano Art Masters". Now he is a highly in-demand exponent.
Having bowed above the grand piano, he started his performance with "The Moonlight Sonata" by Bethoven. The First Part was restrained, and he had been able to demonstrate fragility musical texture. Superior sounding for touch and legato is his "trademark" that attends all his programs. The Last Part was surely presto, however, fortunately, this did not turn into rush "for a time". This pianist does not strive to take aback by virtuosity, he is deep in music only, and he is wholly dissolving there. The affirmation for this fact is a focused attitude of his mind and glances during the performance.
His interpretation of the Bethoven's Sonata "The Tempest" left the same positive impression. This was violent in the moments where it was essential with typical sforzato for the composer. This pianist's touch harmonizes successfully with Bethoven music, in which both furiousness as well as delicacy are needful. The Last Part, Allegretto, was sublime according to its character where once again, we could assure in Malofeev's superlative technique.
He referred to another musical treasury of his Motherland after entr'acte. In the first instance, this is Piano Sonata g-moll, Op. 22 by Medtner. In spite of the fact that the music written by this composer has a recognizable style, this never used to be so much popular as Rachmaninoff and Prokofiev art. This is possibly connected to no pianistic execution particularities, but to the composer's specific melodies: in distinction from Rachmaninoff music, compositions by Medtner are hard to be remembered or sung. Come to think of it, this Sonata reminded remotely Rachmaninoff. In this piece of music, the composer interchanges the instants of melancholy with impetuous passages. I cannot imagine a better reasoning than Malofeev does: he has faith in this music, and he owns an undoubted natural gift to present this in a perfect performance. In some points, he managed to allure audience by elegance in touching keys, but as a listener you will fall into the style that is demanding for appreciation. You will have to listen to this more than one time before you are capable to see the true value of this music.
Inequality in the Etudes-Tableaux, Op. 33 by Rachmaninoff is very much evidenced: if Medtner music is distinguished by oddity, then the first composer wrote the music in a more compact mode and in an easier way for "comprehension". The Russian pianist's style is closer to the Rachmaninoff style: noble and bronze piano sound that can be clearly heard in the Second and Third Etudes-Tableaux. Malofeev is one of the best exponent for the music by this composer. We would like to listen to his compositions exactly this way, and you can have a vision what is the reason for the occasion when a fan wrote under the Malofeev video on the YouTube: – "Rachmaninoff would be proud of meeting you". Fortunately, this musician is aloof of sentimental, faint approach. These Etudes-Tableaux are varied by the nature like Etudes in Opus 39, however, they are more brief in volume.
Having completed pompously No. 8, the pianist reverts back to Medtner, this time, with one of "Forgotten Melodies" included into the most notorious compositions by this composer. He was greatly convincing with his frangible sounding.
What about the second encore, Precipitato from Prokofiev's Seventh Sonata had been occurred a little out of the common not only along of its visual nature, but also through its Malofeev's performance. He started moderately, bit by bit, intensifying strength of tone, and at the last sheets, the chords were going on the rampage. During that night, it was the first time when the pianist played loudly, as if he aimed to show us what he'd got. After the fanciful third music piece encore (supposedly, it was Skryabin), he revealed a genuine heroism having played "Islamey" by Balakirev, as the last encore, that is commonly known as a hard piece to be performed, one of the most elaborate compositions among all the compositions ever written for piano. Such virtuoso performance is presumable if you are young and exuberant. Likewise he executed this composition in a distinct manner from a customary one: this once, it was not similar to typical Russian "war-horse", yet this could be nicely gone for a "little brother" of "Ignes Fatui" by Liszt. This sounded light and airy, and the middle part was pretty much poetical. This is, even more so, remarkable in the musical work that is not praised to be poetic. I am full of hope that this talented pianist will appear again with solo concert and as a soloist with the Concertgebouw Orchestra!
By Willem Boone
01.10.2022
October 2022, Amsterdam, Netherlands