back
Frankfurter Rundschau / Online Merker / Frankfurter Allegemeine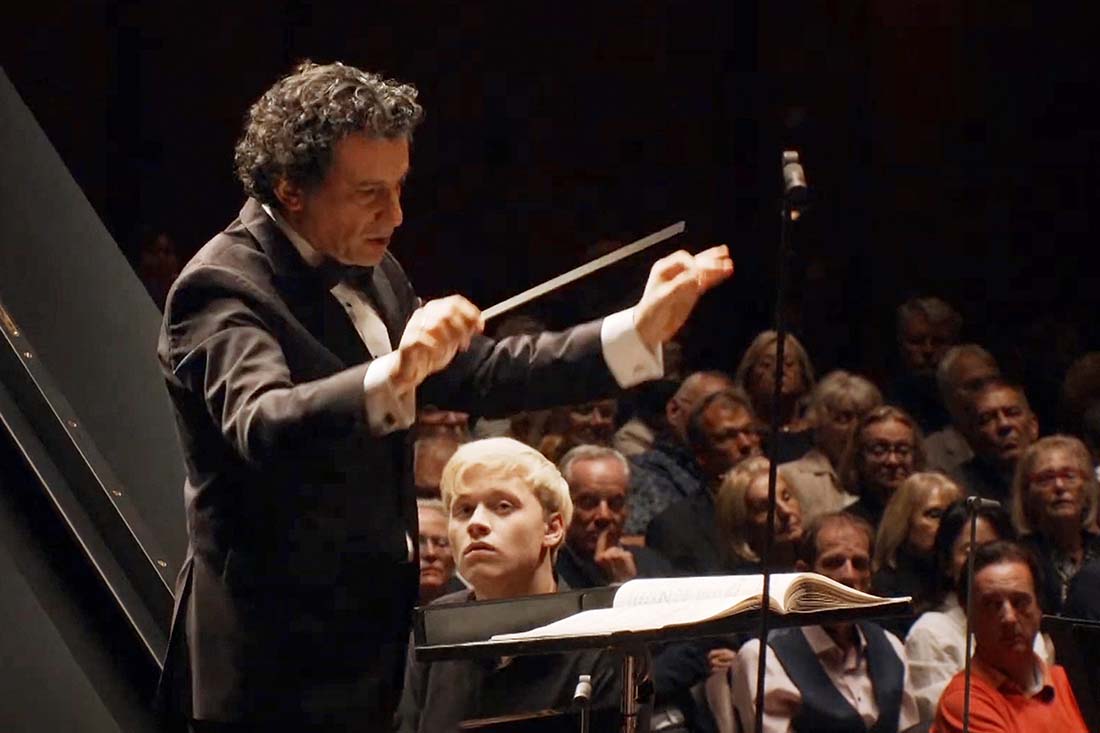 Reviews of the concerts at Alten Oper Frankfurt / 3rd Rachmaninoff with Alain Altinoglu and the hr-Sinfoniekonzert
🔷 Frankfurter Rundschau: Hr-Sinfoniekonzert in the Alte Oper Frankfurt
Primary, Evgeny Kissin had to perform as a soloist, but, unfortunately, his performance was recalled due to illness. Instead of him, Alexander Malofeev, his fellow countryman who is just 20 years old, became the soloist.
Very fearless, face to face with such formidable challenge, a young pianist showed a marvelous and extraordinary mastery in the highest degree. Only this Concerto playing technique strikes its assuredness. Owning endless energy and powerful force, especially in left hand, he coped with devastating fluency with the requirements that seem hardly possible to be fulfilled. Menacing cadence was sensing as a musical battle of his hands. There are no any effects toward the audience – deeply serious music interpretation with distinct vision of structure. On top of that, it is truly miraculous how well he owns and manages dynamics. This is what reinforced the impression of the Second movement performed with tranquil delicacy. Here, Malofeev comes off to be entirely turned in upon himself, turned into music and amused by its response. The Third movement sounded as it were a charmful dance on keys. The shattering tempo change, supreme virtuosity, chards alternation and natural cantabile became his effort.
Frankfurt Radio Symphony Orchestra clearly enchanted by this unique soloist produced an excellent base for his solo performance. The magnificent strings were full of sound, and the sensitive woodwinds stupefied with warm blasts. The winds demonstrated again their superior sound quality, and far and by the drums from the orchestra, passive enough, were quite convicting complements of active performance on the instruments.
And by all means, after the violent final accompanied by the audience adoring cries, the load applause went off. Malofeev thanked the audience playing encore twice. It is difficult to believe that a young exponent is able to do this after hard execution of the music by Rachmaninoff! Especially enthusiastic auditors became witnesses of absolutely fragrant performance of pas de deux from the ballet "The Nutcracker" by Tchaikovsky. Being awfully empathetic and attentive to each sound, he also demonstrated other high-rise technical mastery qualities. It was divine. Standing and applauding, the audience was welcoming this great pianist who owns the future!
By Judith von Sternburg
18.09.2022
🔷 Online Merker: Alte Oper: HR-SINFONIEORCHESTER – Alain Altinoglu; Alexander Malofeev (Rachmaninow, Rimsky-Korsakow)
The choice of the Concerto for Piano and Orchestra No. 3 by Rachmaninoff, one of the most monumental and elaborate composition in music history where pianists can participate in technical understanding and virtuosity made possible to find more than comparable fill-in for Evgeny Kissin, who became ill. Russian young pianist Alexander Malofeev, often called a star in his 20, has made an impressive career: when he was 13, he became a winner of the International Tchaikovsky Competition for Young Musicians. The performances with such famous conductors like Riccardo Chailly, Myung Whun Chung and Susanna Mälkki, famous orchestras like Philadelphia Orchestra and Lucerne Festival Orchestra, and recent concerts at the great summer festivals such as Verbier and Tanglewood have become a part of his biography of late.
His interpretation of the Piano Concerto, melancholic and sorrowful at times, specified with subtle expression and upsurges of feeling, gently ingrained, by no manner of affected means. The central motif painted by dreaminess in the First movement makes initially his performance as though reticent and distrait. Only in cadenza, Malofeev uncovers himself totally demonstrated how masterly a performer should support mutual strain line in the Concerto. With his exceptional freshness, with easy manner of execution, he has opened all varieties of planes and all courtliness of the Concerto composed in 1909 and withstood the playing in the mood of the Late Romanticism certainly proclaimed the contemporary Modernism…
By Dirk Schauß
17.09.2022
Debuted as a soloist for the Frankfurt Radio Symphony Orchestra in the Old Opera House in Frankfurt, Malofeev made up for absence of the pianist Evgeny Kissin, got an illness, who graduated from the same musical Academy three decades before Malofeev did that, and he is also one of famous critics of the war. The Russian program directed by Alain Altinoglu, the Head Conductor for the Frankfurt Radio Symphony Orchestra, has not changed a bit, and the performance of the Concerto for Piano and Orchestra No. 3 in D minor, op. 30 by Rachmaninoff was presented before the orchestral suite by Nikolai Rimskiy-Korsakov "Scheherezade" op. 35. Along of the musical composition with immense continuance for the beginning of the 20th century and its technical difficulties that motived the pianist Artur Rubinstein to call this "Concerto for Elephant", this has a reputation of a composition that in the first instance claims a soloist to hold up works of strength, firmness and virtuosity. In that respect, Malofeev did not disturb any performance traditions when he constrained and consolidated menacing solo cadenza in the First movement. This makes us marveled considering the fact that he has maintained extreme accuracy.
The features, melancholic and oppressive enough, owned perhaps more attractive force beginning from mere song introduction for piano that the soloist conjoined ideally with the parts for the winds executed by the Frankfurt Radio Symphony Orchestra. By and large, it may be said that Malofeev controls his feelings every time with excessive manner knitting his voice in the orchestral sound notably in the slow part. The night that the audience clearly realized that the author of the music and a pianist Rachmaninoff intended to express with the concerto not nearly his own imagination, but many ideas were thought out, adjusted, created and forwarded solely there to sound wealth and expression. This refers just as much also to Malofeev's capability to make spontaneous vocal flow of sound that he demonstrated by his execution of the Canzona Serenata, Opus 38/6 by Nikolai Medtner as an encore…
By Axel Zibulski
19.09.2022
September 2022, Frankfurt, Germany