back
The New York Times / The Boston Globe / The Boston Musical Intelligencer / bachtrack.com / Times Union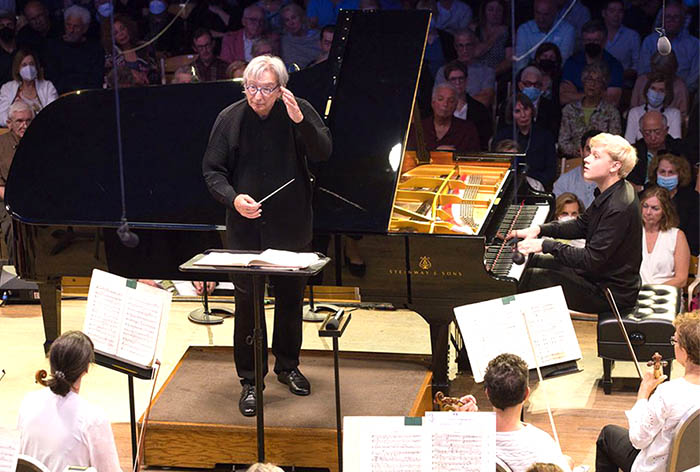 Reviews of the concert at Tanglewood / 3rd Rachmaninoff with Michael Tilson Thomas and the Boston Symphony Orchestra
🔷 The New York Times: In His Twilight, a Conductor Revisits Where His Career Dawned
…Alexander Malofeev, 20, was the soloist, which made the performance delayed compensation for a collaboration between him and Thomas that had been canceled in March, when the Montreal Symphony Orchestra declared that it would be "inappropriate" for the Moscow-born pianist to perform. Entirely innocent to begin with, Malofeev had condemned the Russian invasion of Ukraine days earlier, calling it a "terrible and bloody decision" after another concert in Canada had been called off far in advance. Thomas, a devoted supporter of up-and-coming musicians in his founding of the New World Symphony and in other work, was clearly pleased that they could perform together here, beaming during the ovations.
You could hear why: Malofeev is already a special pianist. Plenty of young artists use the Rachmaninoff to show off sparkling technical skills, and Malofeev had those in abundance. But he was interested in something more than that. The first movement was broad, dreamy, nightmarish, the left hand disrupting melodic lines; the cadenza was unsettlingly introspective. The second movement became a balm, the third a triumph, and if that finale was dangerously soaked in schmaltz, well, that's Rachmaninoff for you. Thomas, to his credit, went where Malofeev took him, and brought the orchestra along, too…
By David Allen
August 31, 2022
🔷 The Boston Globe: Michael Tilson Thomas closes Tanglewood on a triumphant note
During the BSO's final weekend in the Berkshires, Russian pianist Alexander Malofeev brought down the house, while the traditional performance of Beethoven's Ninth raised spirits and hopes
…Sergei Rachmaninoff's Third Piano Concerto was the featured piece on the first half of Saturday's program with the magnificent 20-year-old Russian phenom Alexander Malofeev. The concerto was itself a cultural bridge, written for a 1909 American tour by the great Russian composer and virtuoso pianist, who died in his adopted Beverly Hills home in 1943. In another reminder of our vexed moment, Thomas and Malofeev previously had been scheduled to play together in March with the Montreal Symphony Orchestra, only to have the engagement canceled despite Malofeev's stated opposition to the invasion of Ukraine.
Rach 3, as it is known among aspiring young pianists (as well as in the popular 1996 film "Shine," about an Australian pianist's struggles with mental illness), is overwhelmingly gorgeous in its rolling, tide-like sonorities, as well as physically arduous. From the opening notes, Malofeev, his head bent to the piano, seemed to summon the melody from the keys, as though they were divining rods to which he listened intently. He followed neither Martha Argerich's ferocious, take-no-prisoners onslaught nor Yuja Wang's seemingly effortless precision, adopting instead a bewitching sonic terrain of his own, lyrical, sensitive, and haunted. And he brought down the house. After repeated standing ovations, with audience members cheering in the aisles and conductor and soloist arm in arm, Malofeev played, to the hungry delight of the audience, a silky and heartfelt piano version of Tchaikovsky's "Nutcracker" pas de deux…
By Christopher Benfey
August 29, 2022
What the Vatican is to Roman Catholicism, Tanglewood is to Liberalism. Its open grounds, its combined love of excellence and inclusiveness, its public outreach and quiet spots, mark its mission to cultivate private genius in view of collective happiness…
…Alexander Malofeev, with his prodigious technical ability coupled with subtlety and depth of interpretation, gave us both technical brilliance and lyrical expressivity. Tilson Thomas and Malofeev opened with a quiet, soft statement of the first theme, rising in power with the ensuing piano arpeggios. This foreshadowed the central feature of Malofeev's performance, namely that strong emotions, barely held under control, suddenly erupted in uncontainable manic outbursts. Part of Malofeev's effectiveness lay in the effort to resist the temptation to interpret the emotions. He conveyed their menacing unfamiliarity, their explosive novelty that escape labeling and recognition. He unveiled the "stranger within" who torments us and shackles our inner drive without reprieve or possibility of reasonable dialogue.
Is the adagio a commemoration and working through of Rachmaninoff's own depression and eventual return to composition? Malofeev cast the famous piano entry as an expressive chaos of affect; the orchestra answered with hopeful uplift. With or without psychoanalysis, the movement spoke of a tragedy that found its resolution at last in a suddenly light-spirited and dizzying final variation. Palpable relief and excitement in the transition led to the Finale, which came across with total abandon to joy: arpeggios ripped from the keyboard, rapturous crescendos, recovered vitality pouring out and overflowing. Sections that can sound sickly sweet here felt passionate. The astonishing speed of Malofeev's fingerwork portrayed psychic release as quasi-miraculous — unhoped-for and undeserved.
Responding to the audience's volcanic eruption of delight, Malofeev treated us to Pletnev's delicate transcription of the Pas de Deux from Tchaikovsky's The Nutcracker. His soothing, reassuring, and charming interpretation reminded us not to overlook hidden gems of our musical patrimony because of prejudice. Liberalism does not set fire to the past (Cf Shostakovich's May Day Symphony chorale), but rather nurtures it through constant revision and rediscovery…
By Leon Golub
August 28, 2022
🔷 bachtrack.com : Fanfare for an Uncommon Conductor: Michael Tilson Thomas closes the Tanglewood season
…Never one for flamboyant gestures, Tilson Thomas has refined his conducting technique even further. Though it remains vital, it is now spare and economical. His role in Rachmaninov's Third Piano Concerto was listener-in-chief as much as leader, responding to Alexander Malofeev's many turns of tempo and dynamics, each egging the other on to dare the impossible. After introducing the main theme, Malofeev took off like a rocket. The orchestra followed nimbly matching his speed, clarity and precision. All the slowing down and speeding up served an expressive purpose, though, and was an integral part of the architecture of the performance. At times the intensity of Malofeev's focus found his face almost parallel to the keyboard. Then he would relax into the more rhapsodic moments. A thrilling rollercoaster ride of virtuosity and expression like this would have left most mortals drained but, after being recalled to the stage multiple times, the 20 year-old offered a beguiling performance of Mikhail Pletnev's piano transcription of the pas de deux from Tchaikovsky's Nutcracker…
By Kevin Wells
August 31, 2022
🔷 Times Union: Tanglewood review: Boston conductor Michael Tilson Thomas poignant in appearance
Tanglewood, in Lenox, Mass., has hosted performances by the Boson Symphony Orchestra since 1937. On Aug. 27, 2022, the return of conductor Michael Tilson Thomas on Saturday night was another milestone in the institution's rich history…
The 20-year old Russian pianist Alexander Malofeev gave an astounding performance in Rachmaninoff's Piano Concerto No. 3 during the concert's first half. He brought to the cadenza of the first movement unexpected weight and force, plus extreme rubato and a couple of daring pauses. As that section drew to a close, you felt as if the pianist had opened up his soul.
Malofeev, fair and blond, played from an unusually low bench and often leaned over the keyboard like a scientist examining some rare specimen. His penetrating sound and solid technique kept the 40 minute-long concerto mesmerizing from start to finish.
By Joseph Dalton
August 28, 2022
August 2022, Lenox, Massachusetts, USA