back
Classique News | classiquenews.com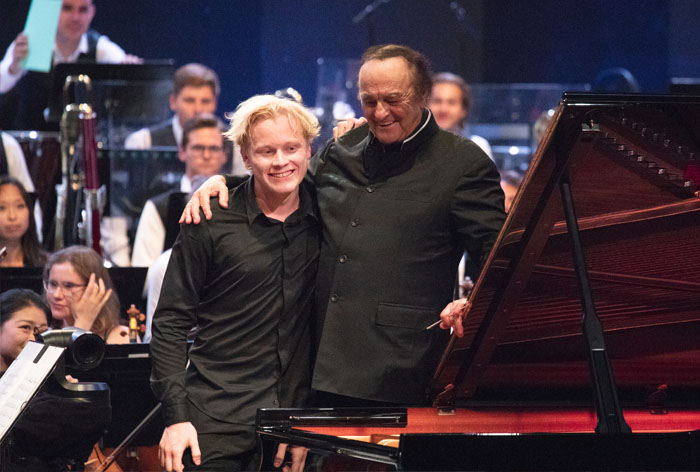 Classique News: OVERVIEW, concert. Verbier Festival, July 31, 2022.
Alexander Malofeev, piano / Vebier Festival Orchestra, Charles Dutoit
It was a great disappointment that Martha Argerich's withdrawal from the closing concert of the 29th edition of the Verbier Festival, especially since she had to perform Prokofiev's famous 3rd Piano Concerto, whose recording published in 1967 by Deutsche Grammophon (alongside Claudio Abbado) remains legendary. And it's finally the young Moscow pianist Alexander Malofeev (20 years old!) Who was chosen to replace her, already present in the Swiss Alpine city for a solo recital given on July 18. A young virtuoso who gained international recognition by winning the Tchaikovsky International Competition for Young Musicians in 2014, at the age of only 13.
Alexander Malofeev: really amazing
Let's say it at the outset, the discovery of this extraordinary talent soon wiped away our regrets for the Lioness who returned to her native Argentina for personal reasons. Because Malofeev's know-how is simply truly astounding, and among his many and immense qualities, let us mention in bulk: a magnificent sound, strokes of formidable precision, panache, imagination, and the young artist has no trouble finding his marks in front of a Verbier Festival Orchestra visibly happy to play under the direction of Charles Dutoit.
Attentive to contrasts and nuances, the great Swiss leader obtains from his troops a great legibility of intermediate voices and a superb highlighting of the plans. The ears of the spectators can only dwell on the clarinet that opens the Concerto, which is followed by the entrance of the other desks in a perfect crossfade. Drown in one breath, the conclusion is phenomenal in precision, impact. The two bis delivered by Malofeev end up putting the public in his pocket, which makes him an indescribable (as well as deserved) triumph!
And in the second part, Dutoit and his young formation tackle Igor Stravinsky's mythical Rite of Spring. From the outset, we feel that nothing is left to chance, in a work he has directed so many times around the world, musicality justifying the slightest inflection required of the orchestra.
From the introduction of "The Adoration of the Earth", the light rallentando made by the bassoon, prolonged in a soft harmony by an English horn seduce to the highest point, immerses the work in a mysterious atmosphere. We also savour the violence required by the "Glorification of the Elected Official"; we remain dazzled by the care given to the sequences (the one between the horn and the flute in "Les Augures springaniers – Danse des adolescents" in particular) and the atmosphere established (introduction of the second part). A very nice festival fence!
August 2022, Verbier, Switzerland